It's Le Crunch for Magners League
French dominance of the Heineken Cup has ensured key Magners League matches will be well contested, writes Jim Telfer.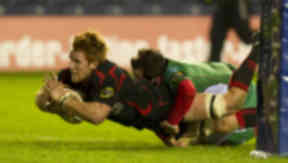 Last weekend's Heineken Cup semi-final matches confirmed that French rugby, both at domestic and international levels, is the strongest in Europe at the present moment. Having won the Grand Slam in the Six Nations Championship, France now supplies the two teams, Toulouse and Biarritz, in the final of the Heineken Cup in Paris in a fortnight's time.
Both teams deserve to be there because both had comprehensive wins against Leinster and Munster respectively. Irish rugby is on the wane, I believe, at the present moment and the same weakness highlighted in the Six Nations, the scrum, was again a huge contributory factor in the defeats.
 
In another twist in the Magners League playoffs saga, the defeats of Munster and Leinster is not particularly good news for the Scottish pro teams. The last scheduled matches take place this weekend and I would expect both Irish provinces to field their strongest sides possible, a scenario that would not have arisen if one or both of them had won through to Paris.
 
The result in Toulouse was of particular importance to Edinburgh who are fighting for the fourth playoff spot with Cardiff and Munster. They play Leinster who themselves need a win to guarantee home advantage in the semi-finals. Edinburgh must win with a bonus point to progress as Munster are already four points ahead of them and have a superior points difference. I can't see Edinburgh doing it, if their recent form is anything to go by.
 
Cardiff play Munster at home on Sunday and, as they have already won through to the Amlin Cup final, may just rest some of their top players. That would help the Irish province who just need a losing bonus point to qualify.
 
Glasgow have a far more straightforward scenario. They have already qualified and have a chance of second place if they beat Scarlets, and gain a try bonus point as well. Their form in Wales in recent league matches has been good and I'm confident they can get the five points.
 
"Magic Murrayfield" took place at the weekend when Rugby League showcased its top professional sides. Critics of our game often maintain that the two codes are starting to coalesce but I saw no evidence of that. Rugby League is a very simple game to play and to understand and bores me because of its lack of variety.
Some aspects of rugby league are worth noting such as good passing, angles of running and organised defences but rugby union has far more variety especially in the contesting of possession such as scrums, lineouts and ruck and maul. I know that there is a lot of debate about scrums and the breakdown but discussion is healthy and we should remember that our game is evolving and developing all the time.