Scotland's 'rope-a-dope' style opens up Six Nations possibilities
It may not have been pretty but Scotland can look forward after a hard-fought win over Ireland, writes Finlay Morrison.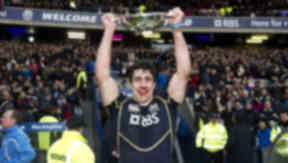 Scotland made it two Six Nations wins in a row for the first time in over a decade with an unlikely but hard-fought win over Ireland at Murrayfield on Sunday.
Four Greig Laidlaw penalties were enough in the end despite Scotland enjoying only 29% possession and 23% territory, once again it was their superb defence that came to the rescue in the face of an Irish onslaught.
Head coach Scott Johnson again refused to single out any one player for praise afterwards but did mention that he was impressed with flanker Rob Harley's contribution despite the Warriors youngster being lucky not to have been sin-binned for a dangerous tackle on opposite number Peter O'Mahony in the first half after club-mate Ryan Grant had been yellow carded for a lesser offence by referee Wayne Barnes, who had a mixed game to say the least.
"We took our opportunities today and they (Ireland) didn't but it was far from perfect from us", the Scotland head coach confirmed in the aftermath.
"At half-time it felt like I was watching Ali v Foreman and my neck was getting sore from constantly looking at one area of the pitch, but they'll be hurting after that and we still need to work on some things", he continued to the laughter of the huddled press pack.
Much was made of the battle of the two Jacksons at stand-off in the build-up to the match but in truth, neither Scotland's Ruaridh nor Ireland's Paddy had a game to remember with the latter dropping his first pass in International rugby and the former sclaffing his first kick to touch.
It will, however, be young Paddy Jackson who will attract much of the flak from the Irish support though as the Ulster player - not renowned for his goal-kicking - missed three crucial kicks at goal which would have earned Ireland victory had he been on target.
Both players were replaced mid-way through the second half to varying effect. 35 year-old veteran Ronan O'Gara contributed to Ireland's defeat by mindlessly yielding a late penalty with a needless kick into midfield , whilst Duncan Weir made a huge impact, making 38 metres will ball in hand and making sure Scotland played in the right half of the field later on in the match with his impressive kicking from hand.
Captain Kelly Brown was once again outstanding and made an impressive 15 tackles during his 70 minutes on the field and was sporting a bloody nose in the post-match press conference.
"I got my nose re-straightened by Rory Best's forehead", the Saracens forward joked. "I can't feel any pain though as the feeling of winning is the only thing I'm feeling right now", he continued.
Looking at the stats from Murrayfield make fascinating reading. With 71% of possession and 77% territory, you would have expected Ireland to have won this match by around 20 points, such was their dominance early on.
Declan Kidney's injury-ravaged squad had arrived in Edinburgh as favourites despite having lost at home to England, and from the kick off you could clearly see their intent to wipe that defeat from the memory.
Both Keith Earls and Luke Marshall sliced through Scottish tackles and really should've crossed the line at least once in the first half had it not been for the outstanding Scottish cover defence which amassed an astonishing 128 tackles in total to Ireland's 44.
This is a match that Ireland will be absolutely devastated not to have won and captain Jamie Heaslip, who has fond memories of success at Murrayfield with both Ireland and Leinster, cut a dejected figure afterwards.
"We applied a lot of pressure in the right areas and I felt that kicking for the corner was the right option early on", the dejected number 8 confirmed when asked about his decision not to kick for goal early on. "We weren't quite accurate enough at the breakdown although there's certainly not a confidence issue within our squad", he explained when reminded of the fact his side has now lost two Six Nations matches in a row for the first time in five years.
Scotland will now go into their match with Wales on March 9th with a chance to do what no other Scottish team has done before and win three consecutive Six Nations games and go joint top of the table 24 hours before unbeaten England take on Italy on Sunday 10th.
Today was a massive test for Scott Johnson's young squad against a street-wise and aggressive Ireland side. The fact that Scotland held on in the end to secure their first meaningful home win over the Irish in over a decade, is testament to the newfound confidence and composure that Johnson and Dean Ryan have installed in the squad.
They have already secured the minimum target of two wins in the championship and are in a good position to not only beat an over-confident Welsh side in a fortnight, but also travel to Paris on 16th March to possibly even challenge for the championship against probably the worst French side in the professional era.
For the meantime though, the smiles are very much back on the faces of Scottish rugby fans and look set to stay there for another few weeks at least.
You can follow Finlay on Twitter @FinMorrison