Scotland 12-8 Ireland: The reaction, best tweets and quality analysis
A round-up of the best reaction to Scotland's unlikely Six Nations victory at Murrayfield.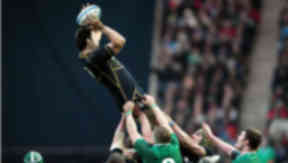 A full Murrayfield witnessed a stunning smash-and-grab act from Scotland to defeat a dominant but ultimately wasteful Ireland in the Six Nations.
The Scots took their first home victory against the men in green in six attempts and, in doing so, kept alive their unlikely chance of winning the 2013 championship.
The boot of Greig Laidlaw saw Scotland home, as a solitary try by Craig Gilroy was eclipsed in a stunning backs-to-the-wall second half.
Here we round up the best reaction, writing and tweets from around the game.
What the head coaches said
Scott Johnson: "We have got to be honest and say that that wasn't perfect from us.
"My neck was getting sore looking down to one end of the pitch.
"It's a funny game. I've played in games when I've been on the other side. It puts a bit of pressure on the team that should be in front. We went in at 3-0 down and I would have taken that.
"So we took it and we took our chances. We will enjoy the next 24 hours but we will also acknowledge that we have got to work on a few things."
Declan Kidney: "It's extremely disappointing. We lost by six points to England and by four points today.
"We had a lot more scoring opportunities today and put ourselves in good positions a few times, but had a few turnovers we wouldn't normally do.
"That just makes it a frustrating day for everybody.
"[Paddy Jackson's] place kicking didn't go the way he would have liked but some days go like that. It's too easy to point the finger at that. Overall his general play was good."
Top tweets
Proud...very proud. Lots to work on, but happy to sneak it. Thank you all so much for the incredible support. #backingblue

— Kelly Brown (@kellydrbrown) February 24, 2013
This old donkey is about to go to sleep. Thanks so much for the messages of support. Bath in 5 days time. Ere we goo. #iknowgrills

— jim hamilton (@jimhamilton4) February 24, 2013
Incredible win for us today! Not the performance we wanted but nice to have things go our way!

— Tim Visser (@timbovisser) February 24, 2013
Proud to be part of an immense @scotlandteam victory today. Plenty of guts shown. Lots of room to improve, though! #backingblue

— Matt Scott (@MattScott_10) February 24, 2013
What the fans said on Twitter
Great day at Scotland game with great friends . Just good to them win . Oh flower of Scotland . #backingblue twitter.com/andybossa/stat…

— Andy Oneill (@andybossa) February 24, 2013
Fantastic game today boys, superb day and what a great atmosphere at murrayfield!! @scotlandteam #backingblue x

— Kirsty McGlinchey (@kirstymcglinche) February 24, 2013
The perpetual disappointment of watching #irishrugby continues.The term "powder puff" was invented for that Irish attack. Well done Scotland

— Neil McGowan (@NeilMcGowan7) February 24, 2013
Eventhough i know the score, watching todays game still makes me nervous!! Especially the last two minutes!! #backingblue

— Plastic Jock (@squashie80) February 24, 2013
Kidney has to go. Madigan has to start against France. #ScoIrl #irishrugby @rterugby

— James (@JamesChew14) February 24, 2013
Ireland quite simply shocking today. I blame kidney and specifically for not putting ROG on sooner seeing as PJ was having a shocker #ScoIrl

— Conor McGann (@machansum) February 24, 2013
Question: should Ireland not have opted for the scrum having been given a penalty in the last play of the game? #irishrugby #discuss

— David Blair (@viscount_dave) February 25, 2013
Further reading for Scotland 12-8 Ireland
STV: "This is a match that Ireland will be absolutely devastated not to have won and captain Jamie Heaslip, who has fond memories of success at Murrayfield with both Ireland and Leinster, cut a dejected figure afterwards."
The Scotsman: "There are the Tales of the Unexpected and Ripley's Believe It Or Not – and then there is this, an outcome so unlikely and a Test match so brutal that the whole breathless experience could be encapsulated by one look at Kelly Brown's slightly dazed face."
The Herald: "The strangeness of it all was perhaps summed up by the presentation of the man-of-the-match award to a Scottish front-five forward, Jim Hamilton, on a day when the opposition won 71% of possession and spent 77% of the match in Scottish territory."
The Guardian: "The fresh air of optimism that has swirled around Murrayfield for a fortnight turned into something close to a gale as Scotland achieved their first back-to-back Six Nations wins in a decade to give themselves a real chance of a say in the championship."
Irish Independent: "The Irish fans trudging out of Murrayfield found it hard to understand how Ireland had lost after dominating for long periods in their Six Nations clash with Scotland."
Belfast Telegraph: "The result piles pressure on Declan Kidney, who is out of contract in the summer, as his gamble to play Paddy Jackson at out-half back-fired."
Sydney Morning Herald: "Scotland's Australian interim head coach Scott Johnson jokingly compared his side to boxing great Muhammad Ali after they came from behind to see off Ireland 12-8 in the Six Nations at Murrayfield."