Vern Cotter will stay with Clermont next year and join Scotland in 2014
French club confirms Scotland's future head coach will see out his contract.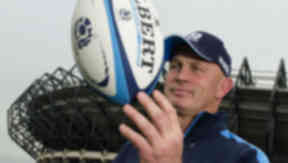 Vern Cotter will remain in France to see out his final year of his contract before becoming Scotland head coach.
Cotter's club, ASM Clermont Auvergne, confirmed after a board meeting on Monday, that the coach would see out his deal, which ends in the summer of 2014.
The New Zealander was announced as Scotland's new boss last week and Scottish Rugby were keen to secure him in time to lead the team's Six Nations campaign in the spring.
However the announcement from Clermont appears to have put that hope to bed.
Cotter told the official ASM website: "I regret having put the players and the club in an awkward position.
"There was clumsiness on my part and a lot of misunderstanding that has been publicised more than I would have liked.
"I now have only one desire – to draw a line under the last week and turn to the next season where we have great ambitions.
"I am pleased the club trust me for next season and I am very determined to have a beautiful finish my Auvergne adventure."
The 51-year-old joined ASM in 2006 after two years with Crusaders in his homeland.
He has guided his side to repeated second place finishes in the French Top 14, winning the title in 2010.
In May this year, Cotter's team was edged out 16-15 by Toulon on the final of the Heineken Cup.