Rugby World Cup preview: Australia v Russia
Australia is not mathematically assured of a playoff spot yet, but few anticipate the Wallabies having much trouble securing it when they face Russia at Nelson.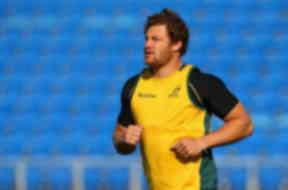 Australia is not mathematically assured of a playoff spot yet, but few anticipate the Wallabies having much trouble securing it when they face Russia at Nelson.DATE: Saturday October 1, 2011
KICK-OFF: 1530 NZDT
VENUE: Trafalgar Park, Nelson
HEAD-TO-HEAD: No previous matches
HEAD-TO-HEAD IN WORLD CUPS: No previous matches
LAST TIME: N/A
WALKING WOUNDED:
No team has more injury worries than Australia at present, and a lot of the bad ones are affecting leading players. Wycliff Palu returned home after suffering a hamstring strain, while the banged-up midfield casualty list includes Pat McCabe (shoulder), Anthony Fainga'a (concussion) and Rob Horne (cheek). Kurtley Beale (minor hamstring strain) will also sit this one out, while Dan Vickerman (leg) was not selected. Digby Ioane (thumb) is still out, but at least Australia has David Pocock (back), Scott Higginbotham (back), James O'Connor (hamstring) and James Horwill (shoulder) available after rehabbing their various complaints. As a result, the side Robbie Deans named has something of a patchwork look to it, with the most notable selection being Radike Samo, normally a loose forward, on the wing.
Russia has made some changes in the front row, restored their best loose trio and juggled the inside backs a bit for this match, but those alterations have returned the team to what looks the strongest side available to coach Nikolay Nerush.
FORM:
Australia:
2011 RWC:
Beat Italy 32-6
Lost to Ireland 6-15
Beat USA 67-5
Russia:
2011 RWC:
Lost to USA 6-13
Lost to Italy 17-53
Lost to Ireland 12-62
Australia is still on track to make the playoffs and should have no trouble doing so; a win should do it and one with a bonus point will almost certainly secure a spot. Barring mathematical miracles or an upset at Dunedin, it can safely be assumed Australia is heading towards a quarter-final showdown with South Africa and so Robbie Deans will be hoping to see the sort of form that will be needed against the Boks, while he will definitely not want to see any more of his players being assisted from the pitch.
Russia has done a sound job in their first World Cup and has grown into the tournament, even if the results suggest otherwise. Like all the fifth-ranked sides in the pools, the Bears have their hardest matches at the end of a compressed schedule and this was a tough group. Despite a couple of heavy losses, Russia has scored some cracking tries - the back play was stilted against USA but has a lot more fluency now - and the players are giving it everything. Russia still tends to start nervously and spot teams leads, but will return home with far more positives than negatives to be considered in the final wash-up.
WHO'S HOT/PLAYER TO WATCH:  
He hasn't been sighted much at the World Cup to date due to injury, but Scott Higginbotham is a player on the verge of becoming a leading Test performer. A big man with tremendous speed, he knows where to be to keep an attack rolling and is just as good at snuffing out opposing threats with some crunching defence. His biggest battle may be pushing former skipper Rocky Elsom out of the No.6 jersey, but a strong performance here will give Deans a selection dilemma he will be only too pleased to have.
Several Russian players will leave this tournament far better known than they were on arrival, and fullback Vasily Artemyev must be counted among that number. His side may have conceded a few tries but few could be laid at his door - normally, speed of execution by more experienced teams has led to mismatches and overlaps that he can do little against. But he has shown out for a booming boot and a willingness to attack and do it well; his try against Ireland was beautifully taken thanks to a fine angled run, determination and good pace. We should hear more of this bloke in the future.
THEY SAY:
Robbie Deans was making the best team decisions he could due to his injury toll, but was not too worried about it. "We've had to be a bit creative but it's never been about the number on their back," he said. "The players all know the role-play. While some of them might be out of their normal positions, they won't let us down and will enjoy the opportunity. We saw that last week with Radike [Samo] and Tatafu [Polota Nau] in the match against the United States." No doubt the big men who get a run in the backs will be looking to show the regulars a thing or two.
Burly Russia prop Ivan Prishchepenko has no doubts that his team will provide more than an opposed training run for Australia. "We will not appear on the pitch just to watch the Wallabies play but will try to demonstrate what we are capable of as well," he said. "This game can be a step forward on our way to progress." While the Bears know their World Cup will end after this game, there is still plenty of time for them to discomfort bigger names, and to ensure that their progress at this tournament continues to the end.
WE THINK:
No matter how one looks at it, this should be fairly straight-forward for the Wallabies. They have too much experience, pace and class for Russia, whose place in the second tier of rugby nations is secure for a little time yet. Australia will win this game and should do it by 40 points, but the coaching staff will be looking for a commanding effort rather than a high score.
TEAMS:
Australia: 1. James Slipper, 2. Stephen Moore, 3. Sekope Kepu, 4. James Horwill (capt), 5. Nathan Sharpe, 6. Scott Higginbotham, 7. David Pocock, 8. Ben McCalman, 9. Luke Burgess, 10. Quade Cooper, 11. Drew Mitchell, 12. Berrick Barnes, 13. Adam Ashley-Cooper, 14. Radike Samo, 15. James O'Connor.
Reserves: 16. Tatafu Polota-Nau, 17. Saia Fainga'a, 18. Salesi Ma'afu, 19. Rob Simmons, 20. Rocky Elsom, 21. Will Genia, 22. Nick Phipps.
Russia: 1. Sergey Popov, 2. Vladislav Korshunov (capt), 3. Ivan Prishchepenko, 4. Alexander Voytov, 5. Adam Byrnes, 6. Artem Fatakhov, 7. Vyacheslav Grachev, 8. Victor Gresev, 9. Alexander Yanyushkin, 10. Yury Kushnarev, 11. Vladimir Ostroushko, 12. Alexey Makovetskiy, 13. Andrey Kuzin, 14. Denis Simplikevich, 15. Vasily Artemyev.
Reserves: 16. Evgeny Matveev, 17. Vladimir Botvinnikov, 18. Alexey Travkin, 19. Andrey Garbuzov, 20. Alexander Shakirov, 21 Konstantin Rachkov, 22. Mikhail Babaev.
REFEREE:  Bryce Lawrence (New Zealand)