Devastating display sees Murray storm past Davydenko 6-1 6-1 6-4
Murray did not make a single unforced error in first two sets as he breezed past former world number three.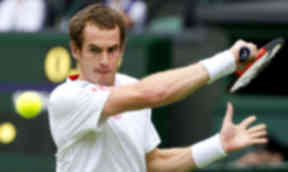 Andy Murray put on a devastating display of grass-court tennis to hammer Nikolay Davydenko and race into the second round of Wimbledon on Tuesday.
The fourth seed was in rare form and did not make a single unforced error in the first two sets as he breezed past Davydenko, a former world number three, 6-1 6-1 6-4 under grey skies on Centre Court.
Murray looked in great shape from the start and, although he could not quite sustain his level in the third set, it was more than good enough to set up a clash with either giant Croatian Ivo Karlovic or Dudi Sela of Israel.
Expectations seemed a little lower regarding Murray's title chances this year, with the Scot not in his best form while Novak Djokovic and Rafael Nadal are more dominant than ever.
That said, Davydenko was also potentially a tricky opponent, the Russian a former world number three but now in the autumn of his career. The pair had met nine times before, although not since 2009, with Murray holding a slender 5-4 advantage.
Grass is certainly not the Russian's favourite surface, though, and Murray was quickly on the offensive.
Davydenko saved a break point in the opening game but Murray threatened again at 1-1 and this time his opponent drilled a backhand wide.
Murray had not won a match on grass in the build-up but he has been hitting the ball well and he showed that with a couple of searing cross-court forehand winners in the fifth game, and another down the line gave him a second break.
The world number four looked rock solid, making very few unforced errors, and he made it six games in a row when Davydenko sent a forehand wide.
Davydenko had added fresh fuel to the debate about Murray's on-court demeanour when he said other players laugh at the Scot's sometimes dramatic reactions to his physical struggles, and also said he did not think his rival had what it takes to win a grand slam.
Whether or not that had fired Murray up, something certainly had, and another brilliant forehand winner down the line gave him a 2-0 lead in the second set.
The Scot was doing everything well but his backhand slice was particularly effective and was causing Davydenko all sorts of problems.
The Russian stopped the rot after nine straight games but he was being thoroughly outplayed and more punch from the Murray forehand helped him to another break and the second set 6-1.
Murray was in the groove, so eager to get on with proceedings that he was not even bothered by spectators being slow to take their seats, usually a pet hate of the 25-year-old.
The statistics were remarkable. Murray had taken only 55 minutes to win the two sets, dropping six points on his serve and making not a single unforced error.
He broke again at the start of the third but Davydenko, who won the Barclays ATP World Tour Finals the first year it was held in London in 2009, was determined to at least restore some pride and he staved off yet more break points in the fifth game.
There was no stopping Murray, though. Davydenko saved two match points to at least make the British number one serve for it, which he managed with aplomb, clinching victory after an hour and 34 minutes when the Russian fired a return long.