Andy Murray backs Aljaz Bedene for place in Davis Cup final team
The native Slovenian will learn on Tuesday if he is eligible to represent Great Britain.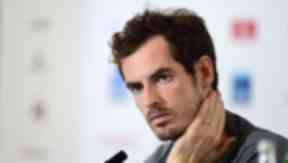 Andy Murray has said that he wants Leon Smith to name the strongest team possible for the Davis Cup final, ahead of an appeal hearing to decide if Aljaz Bedene is eligible to play for Great Britain.

Bedene , a native Slovenian, is currently unable to switch nation following a rule change but will have his appeal heard by the International Tennis Federation's board on Tuesday.

Great Britain captain Leon Smith named his initial team for the David Cup final against Belgium next week with James Ward and Kyle Edmund fighting it out for the second singles spot but that could change if Bedene wins his case.

British number one Murray has used Bedene as his practice partner recently and has spoken positively about the player who is ranked 45th in the world.

Following Jamie Murray's comments that he would welcome Bedene "with open arms", his brother said: "My view is that the process has taken such a long time that it is awkward timing now.

"I think everyone thinks that. Whereas if this decision was made, like, seven months ago, we wouldn't even be having the discussion. That isn't his fault that it's taken such a long time. It's also not his fault that it's 10 days before the Davis Cup final.
"I'm not the one that makes the rules. If he wins his appeal and is able to play, then, if I'm the captain, I'm picking my strongest team to try and win.
"But that's Leon's decision. That's what he's paid to do. I'm sure he'll make the right one and give us the best chance to win."
Murray also shared his thoughts on security concerns ahead of next week's finals in Ghent following the terrorist attacks in Paris.

"I think everybody right now is concerned about things," he said. "But I do think the best thing that we can do is to live our normal lives, not change too much, because then the terrorists are the ones that are winning.

"We need to go out there and do what we always do and try not to change too much. That's all we can do.

"I don't want to live my life in fear each time I step on a tennis court. So that's what I'll do."