Ward or Edmund to partner Murray in Davis Cup after Bedene delay
The ITF have postponed a decision on Bedene's eligibility until March.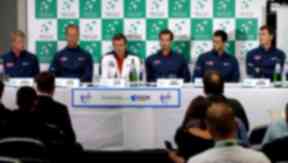 Andy Murray will be joined by either James Ward or Kyle Edmund in the Davis Cup finals singles after the International Tennis Federation delayed a decision on Aljaz Bedene's eligibility.

Bedene, a native Slovenian, is currently unable to switch nation following a rule change and had hoped to be approved for selection by Great Britain at a hearing on Tuesday.

However, the ITF did not reach a conclusion on the player's status and have said that a decision will be announced in March 2016, ruling Bedene out of next week's Davis Cup final against Belgium.
Great Britain captain Leon Smith had earlier announced his preliminary team for the final, naming Murray, Ward and Edmund alongside Jamie Murray and Dom Inglot.
Andy Murray had given his support to Bedene before the hearing, suggesting that if the decision had gone in his favour then he should be in the squad for next week's final.
Following Jamie Murray's comments that he would welcome Bedene "with open arms", his brother said: "My view is that the process has taken such a long time that it is awkward timing now.

"I think everyone thinks that. Whereas if this decision was made, like, seven months ago, we wouldn't even be having the discussion. That isn't his fault that it's taken such a long time. It's also not his fault that it's 10 days before the Davis Cup final.
"I'm not the one that makes the rules. If he wins his appeal and is able to play, then, if I'm the captain, I'm picking my strongest team to try and win.
"But that's Leon's decision. That's what he's paid to do. I'm sure he'll make the right one and give us the best chance to win."