Andy Murray 'training and preparing' for Australia return
The British number one has been sidelined since picking up hip injury in the summer.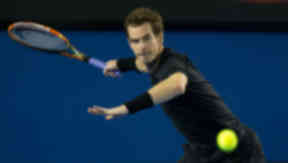 Andy Murray is "training and preparing" to return to tennis in 2018, according to the Australian Open tournament director.
The British number one has been sidelined since limping out of Wimbledon with a hip injury in July and is unlikely to play again this year.
Tournament director Craig Tiley says Murray will be among a host of top stars returning to grand slam tennis in the new year, along with Novak Djokovic, Serena Williams, Stan Wawrinka and Kei Nishikori.
Djokovic has also not played since Wimbledon due to an elbow injury, Wawrinka and Nishikori have been missing since the summer with respective knee and wrist problems, while Williams appears set to return to Melbourne Park to defend the 2017 title she won while eight weeks pregnant with her first child.
Murray is due to play a charity match against Roger Federer in Glasgow in November and has entered an Australian Open warm-up tournament in Brisbane in January.
"I'm very happy to confirm that all the top players will be back in Melbourne in January," Tiley said at the tournament's launch, streamed on Twitter.
"On the men's side, there has been a lot of concern and conjecture around Andy Murray, Novak Djokovic, Kei Nishikori.
"I can tell you that in talking to Andy, he has been training and he is preparing for having a great year in 2018.
"How much would this year have hurt him, to watch over the entire year Roger and Rafa share four grand slam titles - he would not have like that.
"As competitive as Andy is, we know he's back and he'll want to improve his current ranking of number three in the world and getting back to number one."
Murray hobbled through to the quarter-finals at SW19 having suffered a hip problem at the French Open but finally succumbed to Sam Querrey.
He had hoped to return to action for the US Open in August but pulled out 48 hours before the tournament started and also skipped the Asian swing of the ATP Tour, which is currently ongoing with the Shanghai Rolex Masters.