Andy Murray to mentor Scottish teenage tennis prospect
Aidan McHugh, 17, is one of three promising talents to join 77 Sports Management.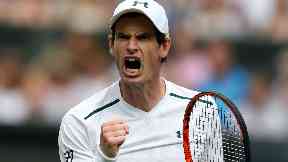 Andy Murray will mentor a 17-year-old tennis player from Scotland as part of his new management agency.
The former world number one has selected the first three promising athletes to join 77 Sports Management, an organisation he set up in 2016 with two business partners.
Aidan McHugh from Glasgow will be joined by 20-year-old twin sprinters Shannon and Cheriece Hylton from Nottingham.
Murray and his team plan to manage all aspects of the young prospects' careers as they work to establish themselves in their respective sports.
He intends to use his own experience to mentor the trio and guide their professional decisions.
They will also have access to the same facilities, personnel, nutrition, sports science and commercial opportunities.
Speaking to the BBC, Murray said: "I signed with a management company for the first time when I was 12, 13 years old, which to me is ridiculous.
"It's way, way too young. You don't need that pressure. You're trying to become a professional and certainly my parents were not experienced in dealing with those situations.
"You can get yourself into trouble by signing long-term contracts that might not be in your best interests. Things like that you can avoid if you've got the right people around you."
McHugh is the current British junior number two and has six junior titles to his name.
He made his debut at the Wimbledon Boys Championships earlier this year and has been training on court with both Andy and Jamie Murray.