Andy Murray undergoes 'successful' surgery on right hip
The tennis ace had an operation in Melbourne and says his career is far from over.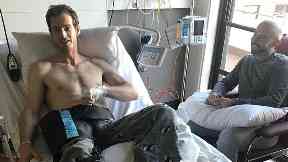 Andy Murray has targeted a return to tennis before Wimbledon after undergoing surgery in Melbourne.
The British number one has not played a competitive match since his defeat in the quarter finals at SW17 last year and he pulled out of a planned return at the Brisbane Open earlier this month.
Instead of competing, Murray had an operation on his troublesome right hip after taking specialist advice.
The 30-year-old said he will work towards a return for the grass court season.
Murray, who has dropped to 19th in the world rankings during his absence, insists he is far from done with competitive tennis.
'I'm going to be competing at the highest level again.'

Andy Murray
"I'm not finished playing tennis yet. I'm going to be competing at the highest level again," he said.
"I'm very optimistic about the future - the surgeon is very happy about how it went."
Murray would not put a specific date on his comeback, saying that the most important thing was to play when he felt he was fully recovered and fit, citing previous examples of where he had tried to return ahead of schedule.
"I want to come back when I'm fit and ready to play, not to get into a situation like in Brisbane or New York, where I'm unsure when I turn up at a tournament how fit I am," he said.
He also said that he was motivated to continue playing partly so that his daughter Sophia, born in 2016, could see him compete and have "a small understanding of what it is I've done for my living".
"That would be cool if she can come along and watch me hit some balls or practise just to see what it is I do," he said.
"I like watching and seeing a lot of the other kids when they are on the tour with their parents."