Murray: Missing Wimbledon one of my best decisions
The Scot insists he's made a smart call to opt out of participating at Wimbledon.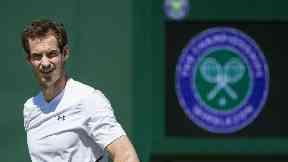 Andy Murray believes his decision to miss Wimbledon could prove to be one of the best he has made.
The two-time champion at the All England Club withdrew on the eve of the tournament after concluding he wasn't ready for the rigours of five-set tennis following a year of injury problems.
Instead, Murray has been training on the hard courts in preparation for the Citi Open in Washington at the end of the month.
The Scot is missing Wimbledon for the first time since 2007 but he said that the call to opt out will likely prove to be a smart one down the line.
He told the BBC: "I thought it was going to be worse.
"I think it's probably one of the best decisions I've made, not to play.
"It was a really, really difficult decision for me but last year I came in when my hip was bad and got through to the quarters and I haven't played since then pretty much, and missed a whole year because of that.
"This year I was feeling a bit better but I didn't want to go into the event and potentially play four or five matches and do any damage again.
"I just wanted to make a smart decision.
"I was really close. I was here practising playing sets on Saturday and obviously I was desperate to play, and that's why I think it was such a good decision because the emotions start to take over and you think maybe I could get through a few matches and then you never know.
"But in reality, when I thought about it long and hard, I was very unlikely to win the event and the smart thing to do was stay at home."
As well as the Washington tournament, Murray has also taken a wildcard entry into the Rogers Cup in Toronto one week later.
Should he come through the two events unscathed, the 30-year-old hopes to make his grand slam comeback t the US Open starting on August 27.
Murray said: "As soon as I got on the hard courts on Monday I felt better because of that stability of the surface.
"When you're coming back from an injury like a hip on an unstable surface where you're worried about pretty much every step that you take, as soon as I got on the hard courts I felt a lot more comfortable.
"Hopefully that will help my movement and therefore free up my hip a little bit. Obviously the impact on the hard courts is a bit greater than it is on the grass but I feel like it's going to be positive for me."