Murray: I'm feeling better every day on road to recovery
The Scot is currently working on his fitness as he gears up for a return to tennis.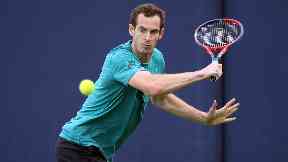 Andy Murray has said he's closing in on a return to competitive tennis as he's "feeling better every day" on his road to recovery.
The Scot brought his season to a close in September to concentrate on his fitness in a bid to rediscover the form which delivered three grand slam titles.
Murray's year was disrupted by ongoing injury problems following hip surgery last winter.
But the 31-year-old said he's optimistic ahead of his return to the courts in Brisbane in January as his fitness improves with each passing day.
He said: "I'm feeling physically a little bit better every day. It's obviously been a tough year with the hip injury but I'm getting closer.
"I've still got a couple of months to get myself in the best shape for the start of the tournament."
Murray has spent time training in Philadelphia before he returns to his regular off-season training camp in Miami.
After a month sweating it out in the heat of the Sunshine State, the Olympic gold medalist said he'll head to Australia early to get himself set for his comeback.
He added: "I'm planning on getting to Brisbane early this year.
"Before then, I'm going to do my off-season training in Miami, three or four weeks working in the hot conditions there and spending time on court to get ready.
"I'm looking forward to playing in Brisbane again and hopefully I can perform well."