Andy Murray: Teenage dreamer who became a major player
The life and times of the tennis great as he announces his retirement from the sport.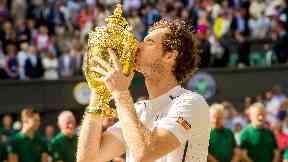 The long goodbye is almost at an end. The lens is beginning to shift from a narrow focus on a grim spell of injury and rehab, pain and struggle to give full regard to a career of victory and achievement, glory and pride.
Athletes don't often get to dictate the terms of their exit and while many would envy Andy Murray's career, few would watch his admission that he was unable to carry on with anything other than sympathy.
His career will end with sadness, as injury has ensured that the 31-year old will never be able to show his best on court again .Three Grand Slam titles, two Olympic gold medals and one silver, a Davis Cup, a spell as world number one and a stack or tour titles ensure Murray's place in the pantheon of sporting greats and make him arguably Scotland's greatest sportsman.
News of his impending retirement has brought tributes from giants of the sporting world as well as other notable figures and an outpouring of emotion, gratitude and respect from the public.
Teenage dreams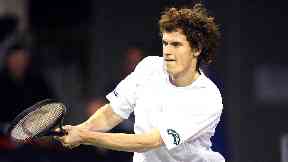 It's the final act for a professional career that began in 2005, though by that stage he had already made a name for himself by winning the junior title at the US Open the previous year.
Nevertheless, when Murray started on the tour, 'Scots tennis player' still sounded like start of a joke, not associated with the beginning of a professional career that would span more than a decade of top level competition and deliver trophies, acclaim and a dose of national pride that few have inspired.
The Murray who was aiming to make his mark back then was different from the poised professional we've come to know and, having trained in Barcelona from the age of 14, was far removed from the traditional product of the British tennis system.
Wimbledon debut and rise through rankings
After reaching the semi-finals of the boys French Open and the third round at Queens, he was given a wild card for Wimbledon and a platform to step up into the big time.
Wins over George Bastl and Radek Stepanek put him in the third round where he faced David Nalbandian where he was two sets up before cramp and tiredness saw him fall away and lose to the 2002 finalist.
It was plucky defeat but made plenty - including Sean Connery in the royal box - sit up and take notice.
The following year brought progress on the tour and a rise in stature as he replaced Greg Rusedski as British number one.
He competed in all four slams and reached the fourth round at Wimbledon and the US Open.
2007 saw him experience ups and downs, reaching the top ten in the rankings before an injury setback, but the next 12 months would see him move up to the top level of the sport.
Major movement
The 2008 Australian Open brought a first round defeat and he fared little better in the French, going out in the third round. Wimbledon, however, saw the Scot push past Richard Gasquet to reach the quarter-finals where he lost to eventual champion Rafael Nadal in straight sets.
At the US Open, he took yet another step forward, beating Juan Martin Del Potro in the last eight, Nadal in the semi-finals and losing to Roger Federer in his first slam final.
It wasn't to be his only near-miss. While making solid progress on the tour (and briefly rising to world number two) he found his major title hopes repeatedly dashed by some of the finest players ever to have picked up a racquet.
Federer, Nadal and Novak Djokovic were dominating and Murray lost the 2010 Australian Open final to the Swiss, then the 2011 final to Djokovic.
Though his talent was indisputable, that formidable trio had the ability to frustrate at every turn as they wrote their own names in the history of the sport. But part of Murray's appeal has been his work ethic, that hard competitive spirit that ensured what he had to give was always given and more.
The casual fan who only watched Wimbledon may not have appreciated his technical mastery or tennis brain, but they could easily identify with his dogged persistence and refusal to shirk any challenge.
That determination was evident after losing a draining, emotional five-set battle with Djokovic in the 2012 Australian Open.
Asked if he would ever make the breakthrough to a slam title, his response was definite and clear: "I am going to win one". It was to be expected but, with the scale of the challenge facing him, questions were also entirely reasonable.
His confidence wasn't misplaced. Defeat in the Wimbledon final to Federer was perhaps his most painful slam setback yet, but a month later he was Olympic champion at the same venue, a central figure in the highest-profile sporting event the nation had hosted in decades.
Slam success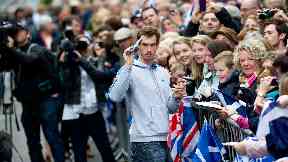 From that golden moment, he went into the US Open on a high and overcame Djokovic in an epic five-set thriller to become Britains first male Grand Slam singles champion in 76 years.
An OBE in the New Year honours was just one marker of his rise to become a prominent figure and a popular champion.
Though 2013 began with yet another Australian Open final defeat, again to valued rival Djokovic, the year would deliver another historic moment.
Wimbledon had long been valued more highly than the other majors by the British public, who had waited 77 years for a successor to Fred Perry.
Murray again reached the final, with Djokovic between him and the history books. The Scot emerged triumphant in straight sets and became a sporting icon.
Battling back from surgery
Poised to deliver further success, Murray then had further setbacks. Knocked out of the US Open by Stan Wawrinka, he later decided to have surgery to clear up a persistent back problem.
It was to continue to have an effect through a largely forgettable 2014.
Murray split from Ivan Lendl, who had helped him capture major success, failed to reach any slam finals and dropped out of the top ten.
The following year began strongly with a run to the final in Australia, only to lose again to Djokovic and defeat to the same opponent in the semi-finals of the French.
Wimbledon brought semi-final disappointment against Federer but the thread through 2015 was his leading role in taking Great Britain through to the final of the Davis Cup.
It culminated in the final against Belgium and Murray's victory over David Goffin saw him equal the record for Davis Cup singles wins in a year as Great Britain lifted the trophy for the first time since 1936.
Golden era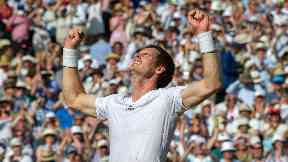 The Scot then entered what was arguably the finest 12 months of his professional career.
It began, yet again, with a run to the final of the Australian Open, only to be beaten by Djokovic for the fourth time at the same stage.
At the French Open, never his favourite surface, he reached the final for the first time, losing to the Serb again.
Wimbledon brought a repeat of his 2013 triumph. A comfortable win over Milos Raonic on Centre Court showed his form and assurance in the role of favourite.
From there, he headed to Rio and once again won Olympic gold, again going into the record books.
The US Open ended in the quarter-finals but there was one more prize in sight. The run of success had brought him in reach of Djokovic in the world rankings and the chase came down to the ATP World Finals in November.
Both players reached the final and the Scot came out on top, winning 6-4 6-4 to become the world's number one player for the first time.
Hip horror
It was to be the peak for Murray. The 2017 French open saw Murray reach the semi-finals but a hip injury was to prove significant.
He complained of pain during Wimbledon, where he bowed out in the quarters and didn't play again that year.
It was to prove to be the beginning of the end. Hip surgery in January last year aimed to allow him to compete at the highest level again but long spells out and far-from-convincing performances on his return showed an ongoing struggle.
He withdrew from Wimbledon and admitted that testing five-set matches were beyond him but continued to look optimistically at a phased return if all went well.
It appeared that there could be a managed spell where he played fewer tournaments and focus on majors, but it proved impossible.
Match point
All of this led to Murray's emotional media conference ahead of the Australian Open. He expressed a desire to bow out at Wimbledon but also accepts that it may not be possible and he may be forced to call 'game, set, match' sooner.
It's framed as a decision but also explained as no choice at all.
Having spoken about enduring pain doing simple tasks, further surgery isn't a Hail Mary that Murray hopes can deliver a revival.
Instead it's necessary to ensure quality of life and that the legacy of his career isn't further discomfort.
Murray's final match could be as early as Monday or he may continue towards his dream end.
Regardless of when the final match of his career takes place, his retiral will allow time to reflect on remarkable achievement and a glorious career.