Andy Murray heads for US Open third round after victory over Ivan Dodig
The third seed Scot claimed a comfortable 6-2 6-1 6-3 win over the Croatian at Arthur Ashe Stadium.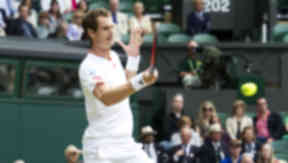 Andy Murray sailed into the third round of the US Open with a comfortable victory over Croatia's Ivan Dodig at Arthur Ashe Stadium.
The match marked an improvement in Murray's game after an uncertain start in the first round against Alex Bogomolov.
Murray, who will face either Feliciano Lopez or Pablo Andujar, broke Dodig's serve on six occasions in a contest that went 6-2 6-1 6-3 in Murray's favour.
The third seed was happy with his performance, saying: "I thought I played well. There were a lot of long rallies. I moved my feet pretty well tonight, played well."
Murray lost his opening two service games on Monday but he allowed no such faltering to trouble the start of Wednesday night's match, in which he threatened Dodig's serve from the start.
The Croatian missed the ball at the net at one point and Murray took advantage of his opponent's unforced errors to break through with a 2-1 lead.
Although Dodig is ranked 118th, he found himself approaching the top 30 last year after beating Rafael Nadal – though found his progress slowed by a back injury.
The 27-year-old focused his Wednesday night game on attacking the net but Murray broke again to lead 5-2 with a forehand pass and then comfortably served out the set.
Murray played closer to the baseline than he did against Bogomolov and piled the pressure on Dodig from the back of the court.
He broke serve for a third time at the start of the second set when Dodig missed a forehand, and when Murray broke again four games later the end result was a foregone conclusion.
The Olympic champion gave no ground in the third set, in which he broke again to lead 3-1, showing off his famed defensive skills.
Dodig's last chance arrived in the seventh game when Murray lost his concentration slightly and two break points with it - only his second and third of the whole match.
Both times Dodig's forehand let him down, though, and Murray served out the victory after an hour and 51 minutes.
The 25-year-old has always relished playing under the lights and he added: "When I was a kid I came to watch (Justine) Henin and (Kim) Clijsters in the final. I always wanted to play night matches here and I love it."