Andy Murray: 'I don't know how I managed to come through in the end'
The US Open champion appeared on the ropes as Novak Djokovic blitzed his way back into the match.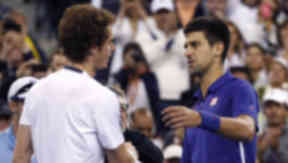 Andy Murray had to fight to the end to overcome a dogged Novak Djokovic and claim his first ever Grand Slam title.
The British number one led by two sets, only for the Serbian to peg him back before an eventual 7-6 (12/10) 7-5 2-6 3-6 6-2 victory.
Djokovic seemed the more likely to go on and prevail at Flushing Meadows, having powered his way back into the game, but Murray held on for dear life before getting the necessary break to claim the US Open title.
"After the third and fourth sets, it was tough mentally for me. Novak was so, so strong - he fights till the end in every single match," Murray told Sky Sports 1.
"I don't know how I managed to come through in the end.
"I've had some really tough matches with him in the past but I just managed to get through it."
Murray's victory ended a run of four losses in Grand Slam finals, mirroring the run his coach Ivan Lendl endured before going on to win eight.
"He's one of the greatest players to have ever played. Here he made eight consecutive finals," Murray added.
"It's great to have him supporting me and helping me in the tough moments and not just him, but everyone else has been there from the start so thank you very much."
Australian Open champion Djokovic hailed Murray for lifting his maiden grand slam.
"It wasn't to be but I want to congratulate Andy for his first grand slam. He absolutely deserves it," Djokovic said. "His team, this is your success as well.
"I would like to thank my team, family, friends for supporting me. I tried my best.
"I gave it my all and it was another tremendous match to be a part of. It was definitely enjoyable."