Andy Murray beats Roger Federer to reach final of Australian Open
Thrilling victory in five sets sees the Scot in to Sunday's grand slam final.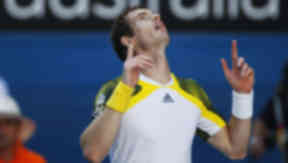 Andy Murray will face Novak Djokovic in the Australian Open final after defeating Roger Federer in Melbourne.
The reigning US Open champion will have the chance to win his second consecutive grand slam title on Sunday against the Serbian world number one.
Murray defeated Federer by three sets to two - 6-4, 6-7, 6-3, 6-7, 6-2.
The Scot, looking to reach his third Melbourne final, was the more aggressive player from the outset with the 17 time major winner struggling to cope with his controlled, attacking play.
Murray, in particular, was targeting the Federer backhand, the weaker side of the Swiss.
And it paid dividends as, after failing to take a break-point chance in the opening game - Federer moving forward to put away a drive volley, the US Open champion broke through to establish a 2-1 lead.
It took him four goes, though, as Federer clung on until Murray finally put away a booming cross-court forehand.
The 31-year-old threatened an immediate response after Murray let slip a 40-0 lead but was kept at bay by an ace out wide.
The Dunblane-born player, who maintained his record of having not dropped a set in the tournament so far, was looking good, dominating the majority of rallies.
He was also continuing to make inroads in Federer's service games and only a cute flipped smash prevented Murray from breaking once more for 5-2. As it was, he served it out with few alarms to claim the opener in 45 minutes.
Sensing he had to change tack, Federer adopted a more attacking mindset at the start of the second set.
He served and volleyed twice and also charged the net on two other occasions as he held for 1-0 despite being taken to deuce.
The biggest difference between the two players at that stage was the serve. Murray was consistently getting more free points from his first delivery than his opponent.
That was displayed once more when he held with ease for 1-1 with Federer finally delivering his first ace to keep it tight after three games.
The trend continued as Murray enjoyed a straightforward hold before Federer had to scramble to win his service game from deuce.
The world number two was battling hard but he was having to work hard to remain competitive.
He did get to 30-30 on Murray's next service game, at 3-2, but the Scot slammed the door shut with a clever approach to the backhand from which Federer could not produce a pass and another ace - his eighth of the night.
His ninth and tenth kick-started the eighth game and he finished with it with a brilliant cross-court pass after Federer had forced him to move forward with a drop shot.
The four-time Melbourne champion made a big push at 5-4 but Murray stood firm, one backhand winner down the line typifying his desire to keep Federer from getting back into the contest.
It remained on serve to go a tie-break which appeared to be going to be going the way of Federer when Murray hit two awful forehands to give up two mini-breaks.
But Murray hit back from 4-1 down to level it at 4-4 with the crucial point coming at 5-5 when Murray elected to hit a ball which was going well out. He only succeeded in mis-timing a high volley and Federer capitalised to lash a backhand winner past him at the net. He served it out to take the breaker 7-5 and level the match.
Murray showed no immediate signs of dwelling on his tie-break disappointment as he set up a break point - his first since the first set - for a 2-0 lead, only for Federer to produce an unreturnable forehand.
The third set remained on serve through five games although Murray was starting to feel for his left quadriceps as Federer tried to move him round - testing his movement with a couple of drop shots.
But, not for the first time in his career, the grimacing appeared a smokescreen as Murray promptly broke to 15 for a 4-2 lead after Federer pushed a lazy backhand into the tramlines.
A love hold maintained Murray's momentum and he kept his nerve by serving it out - finishing with his 16th ace - to take it 6-3 in 36 minutes.
Murray remained on the front foot at the start of the fourth set with a break point coming and going as the third seed slipped on the baseline in trying to get back in position.
Physically he was fine but, more damaging, was the fact an opportunity had gone.
It was to prove temporarily costly as Federer moved up a gear in game four.
Having claimed just one break point in the first three sets he suddenly had three of them for a 3-1 lead.
Murray saved the first two with big serves but the Olympic champion then pushed a forehand wide to put Federer in charge, and he held to 15 to move 4-1 up.
It seemed like plain sailing for Federer but Murray hit back. He set up a break-point chance and coolly converted by putting away a short ball to get it back on serve.
Murray almost handed the advantage straight back as Federer pushed to reassert his authority, a punishing backhand down the line giving him a point for 5-3.
But the Scot refused to buckle as Federer could only place a tired-looking forehand wide.
A disputed line call threatened Murray's composure but he battled through the obvious frustration to keep it on serve at 4-4.
If anything the controversy only fired Murray up and he made his move in game 11, breaking to love to put himself firmly in the driving seat, serving for a place in the final at 6-5.
It looked like the match was in the bag but no-one had told Federer. He moved to 30-40 thanks to a brilliant backhand winner and then broke back for 6-6 when Murray inexplicably missed a simple forehand with the open court gaping.
And as in the second-set breaker, Federer held sway, two mini-breaks handing him a 5-2 lead and he powered over the line as Murray faltered.
Murray required a swift start to the decider and he got just that, racing out to a 3-0 lead in 12 minutes as Federer started to wilt, perhaps as a result of his five-set encounter with Jo-Wilfried Tsonga 48 hours ago.
Federer kept going but he was unable to make any headway on the Murray serve.
Perhaps sensing the game was up, Federer was unable to conjure up another escape act and Murray broke again to secure a wonderful win in exactly four hours.