Andy Murray 'did what he had to do' to book Australian Open final place
The Scot defeated Roger Federer in five sets to make it to his third decider in Melbourne.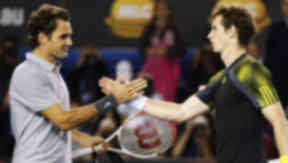 Andy Murray is in confident mood going into Sunday's Australian Open final after defeating Roger Federer to book his place.
The Scot defeated his Swiss opponent for the first time in a Grand Slam to reach the tournament decider for the third time in his career, as he looks to add to his US Open title.
Murray's match with Federer went to five sets but the British number one looked in control throughout, despite surrendering two sets.
"It was a tough match," said Murray. "A lot of ups and downs.
"But I thought I did a good job, I did all the things I needed to do and I did them well.
"To lose the second and fourth sets from good positions was tough but I was happy with the way I responded."
There was a flashpoint in the fourth set between the pair, as Federer appeared to swear at his opponent for stopping mid-point to challenge a call, only for Murray to return to win the point.
"It was very mild in comparison with what happens in other sports," Murray said of the incident.
"It was just one of those things. There's no hard feelings."
Federer meanwhile conceded he had been second best throughout. "I was down in the score basically from the start," said the 17-time grand slam champion.
"It was more of a chase although I was able to level a couple of times.
"I think Andy was a bit better than I was tonight. I was hoping to do a bit better but overall I'm pretty pleased with the tournament."