Andy Murray pulls out of Davis Cup match
British number one opts out of representing Great Britain against Tunisia.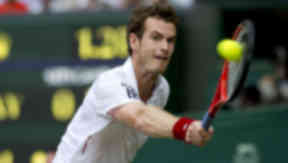 Scotland's Andy Murray has confirmed that he will not play for Britain in their Davis Cup basement match against Tunisia in Bolton next month. However, the 23 year-old Scot has stated he will be available for the GB team when they play their next tie in July.
The Dunblane man, who will return to competitive action against Marcos Baghdatis in Rotterdam on Wednesday night, has received some criticism for allegedly letting his country down. But the Scot, who lost the Australian Open final to Novak Djokovic at the end of January, is surely correct to focus on chasing a major title.
In any case, although Murray has not turned out in the Davis Cup since his ex-coach, Leon Smith, was appointed GB captain last April, he has been in regular contact with his former mentor.
And Murray, who is involved in both the singles and the doubles competition in Rotterdam - after he and his brother, Jamie, received a late wildcard - has insisted that he remains committed to helping out his homeland as they strive to climb up the ladder.
However, the former champion, Boris Becker, suggested on Wednesday that Murray might need to ditch his mother, Judy, to achieve his ambition of winning one of the "Big Four".
Becker, who has tipped the British No 1 to attain this goal, said that he believed the Scot needed a past champion in his corner.
"Andy doesn't need to make major changes, but there's a few small details which have to be sorted out," said the German maestro.
"Is it the right decision for his mother and the whole team to be around [such as in Melbourne]? Maybe he needs somebody who has won a Grand Slam tournament."
Other people have asked similar questions. But Murray is likely to continue ploughing his own furrow for the forseeable future.