Andrew Castle 'amazed' by Andy Murray's split from coach Ivan Lendl
Commentator "doesn't like" the British number one's move to part company from his coach.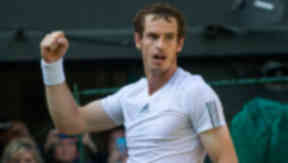 Andrew Castle says he's "amazed" by Andy Murray's split from coach Ivan Lendl after a successful two-year partnership.
The British number one brought in the eight-time Grand Slam champion on New Year's Eve in 2011 and under his watch the Dunblane ace has claimed the US Open and Wimbledon crowns.
Lendl, who like Murray lost his first four Grand Slam finals, was credited with playing a vital role in improving the Scot's performance on and off the court.
Pundit and commentator Castle says he was shocked by the Czech's departure and says he "doesn't like" the decision for the pair to go their separate ways.
He told STV: "I'm absolutely amazed by it to be quite honest. Their relationship has borne fruit. I was with Ivan Lendl two-and-a-half weeks ago and sat with him for hours.
"He was in very high spirits about working with Andy and all aspects. For me it feels a bit negative that Lendl and Murray have split.
"I don't like it, I don't live divorces like that. I don't understand them."
Herald sportswriter Hugh MacDonald has followed the Scot throughout his career and wrote about his success in his book 'Murrayball'.
He says Lendl's part in Murray Grand Slam success cannot be underestimated, adding: "What he needed was 'how do I win a Grand Slam?'
"How do I overcome these huge disappointments in finals? Lendl had the exact same experiences. Lendl had lost a series of Grand Slam finals before he won them.
"So Murray could listen to this man and say 'he's been there and then he done it'."