Andy Murray says Britain can compete with Davis Cup's best nations
Scottish star in confident mood after Hungary whitewash.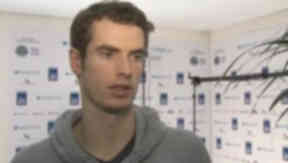 Andy Murray believes Great Britain will soon compete with the Davis Cup's elite nations after their 5-0 victory over Hungary at the weekend.
The Dunblane star helped secure promotion back to Europe/Africa Zone Group I at Braehead Arena and says other countries will want to avoid Britain in next year's competition.
Murray said: "There's matches we'd go into maybe even as favourites in Group I and there's some we'd go into as underdogs but I think that's our level right now, realistically.
"It's not like the matches are going to be easy and we can just get through. There'll be matches we'll need to play very well to win.
"I think we can get into the World Group, but it'll be really tough and it depends a bit on the draw as well, home ties, surfaces and so on."
Leon Smith's side appear to have strength in depth with James Ward, Colin Fleming and Ross Hutchins all securing positive results.
And the close bond between the players gives 24-year-old Murray cause for optimism.
He added: "It's good because everyone in the team is pretty young and fresh and loves it. It's all new to a lot of the guys. I've enjoyed the last two matches that I've played.
"The time you spend away from the court is also important because they come after quite long stretches and big events; you want to have fun as well and I think it's been good."
As the world number four continues his quest to win his first grand slam title, he admits the tennis schedule leaves a strain on his body.
With the added pressure of the Olympics next year, Murray said he would have to consider his participation in all of next year's Davis Cup clashes.
He said: "I'll need to have a look at my schedule and see exactly what's going on, which tournaments I'm going to play, and also what happens in Shanghai might be quite significant, what the players decide to do.
"If all the players get together and say what they want exactly then maybe things will get done a bit quicker and we can move a couple of things around."
IN DETAIL