Malaviya Seven: Stranded ship set to be sold at auction
The crew of the Malaviya Seven are owed about £670,000 in unpaid wages.
A ship stranded in Scotland for almost a year will be auctioned off so its crew can reclaim £670,000 in unpaid wages.
The Malaviya Seven was detained in Aberdeen last October after it emerged her crew had not been paid in months.
They have won the right to sell the ship and on Thursday a judge decided it should be auctioned.
The crew may still be left out of pocket if it sells for less than they are due, however.
One estimate puts its sale price at £850,000 and scrap value at £670,000, while the union representing the crew believes it may be worth up to £1.1m.
Aberdeen Harbour hopes to recover about £250,000 to pay for the ship's stay in port but says it will not take the funds out of the crew's wages.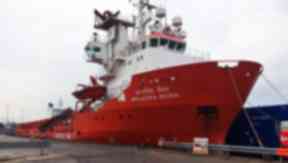 A total of 24 past and present crew are due money and the sailors still aboard had to agree to cap their future collective daily wages at £1100 to secure permission to sell the ship.
Several seafarers have been forced to take out loans to support their families, including chief officer Bamadev Swain, one of 11 Indian sailors still aboard the Seven.
The crew - who are all from India - have been supported by local charities during their time in Scotland and were taken in by the city's Catholic community at Christmas.
The Malaviya was detained twice last year over unpaid wages. It was first held in June after being contracted to BP.
The crew were eventually paid and the ship was released but it returned to Aberdeen under a different contract two months later and detained on identical charges.
Foreign sailors working in the North Sea were owed more than £1m in unpaid wages last year alone.
Download: The STV News app is Scotland's favourite and is available for iPhone from the App store and for Android from Google Play. Download it today and continue to enjoy STV News wherever you are.