Confirmed: Donald Trump to visit Scotland during UK trip
The US President is likely to visit at least one of his Scottish golf courses next week.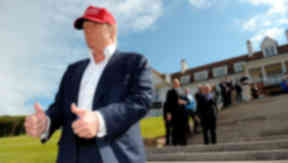 Donald Trump will visit Scotland during his trip to the UK next week, Downing Street has confirmed.
The US President is expected to spend less than two days on official duties before heading north on Friday evening.
He is likely to spend the weekend at his golf courses in Scotland ahead of a meeting with Vladimir Putin in Helsinki on Monday.
Trump will only be the second sitting US President to visit Scotland, after George W Bush in 2005.
Trump is expected to arrive in London on Thursday and Theresa May will host a black tie dinner for him at Bleinham Palace that evening.
Around 100 guests are due to attend the event, including a handful of UK Government ministers.
Trump will stay at the home of the US Ambassador in London ahead of a working lunch and foreign policy talks at Chequers on Friday.
The Prime Minister's deputy spokeswoman said Theresa May is looking forward to the visit and confirmed trade and immigration would be on the agenda.
The President and First Lady Melania Trump will then meet the Queen at Windsor Castle before flying to Scotland. They are anticipated to leave on Sunday and Trump is not expected to meet the First Minister.
While none of the President's official engagements will take place in London, the US ambassador has denied he is avoiding the city. Up to 50,000 people are expected to join protests in the UK's capital.
"The president is not avoiding anything. The president is merely trying to get as impactful a trip as he can get in a 24-hour period," said ambassador Woody Johnson.
Mr Trump will fly between engagements rather than travelling in a motorcade which might attract attention from demonstrators.
A Scottish Government spokesman said: "Scotland has deep and longstanding ties of family, friendship and business with the United States.
"At the same time, we will not compromise our fundamental values of equality, diversity and human rights, and we expect these values to be made clear during the presidential visit to the UK.
"We would encourage those attending any protests to do so peacefully and safely."
Trump last visited Scotland in 2016 during a brief break from his campaign for the presidency.
He spent time at both of his golf courses - Turnberry in Ayrshire and Trump International in Aberdeenshire - and was met by protestors waving Mexican flags.
Protests are planned in most large cities next week, including Glasgow and Edinburgh, and policing his visit to Scotland is anticipated to cost around £5m. The expense will be covered by the UK Government.
Campaigners Scotland Against Trump are organising a series of events.
A rally will be held in Glasgow's George Square on Friday evening and there will be a protest at Trump International in Aberdeenshire on Saturday.
A demonstration is planned at the Scottish Parliament in Edinburgh on the same day, along with an event in the Meadows area of the capital.
Trump, who is half-Scottish, visited his mother's former croft on the Isle of Lewis in 2008. He spent less than three hours on the island, however, and is not expected to return during his latest trip.
Download: The STV News app is Scotland's favourite and is available for iPhone from the App store and for Android from Google Play. Download it today and continue to enjoy STV News wherever you are.